The App
LEGO® (danish: leg godt = play well) DUPLO train system tracks are popular among many age groups:
Whether it's simple or amazingly complex toy train layouts - a huge variety of plans can be created with the very few types of tracks offered by the system.
This flexibility and the robustness of the track material make the DUPLO train system attractive to toddlers and adults alike.
With our Play Well: D-Train app you can now create track plans for LEGO Duplo trains from the comfort of your couch: Try out different variations, create amazing train plans, check the number of DUPLO train tracks required and make sure everything will fit before lifting a finger (from your iPad)!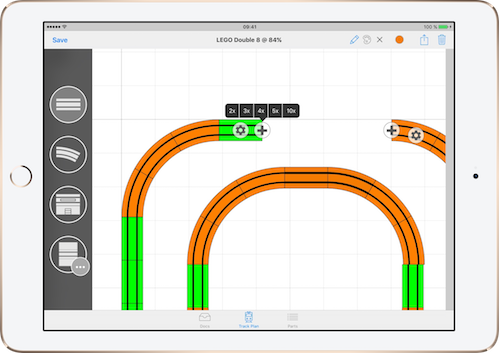 Features
Our app for iPad devices is the easiest - and most fun - way to create train maps for the LEGO Duplo toy train system.
Major features include:
Easily create maps for LEGO Duplo train track with our intuitive touch interface
Get an overview of tracks used in your plan with the shopping list
Share your creations to social media, via email, or print them for building the track!
Legal/Disclaimer
The LEGO word mark, LEGO logo and DUPLO are registered trademarks of the LEGO Group, which does not sponsor, authorize or endorse this Web site.